AXIVA -Rotary Evaporator AHS-2005S(CE)
FEATURES
If the amount of water goes down under the certain threshold in the heating bath, the system automatically turns off its power for the safety purpose Temp Control range: Amb.~180°c Temp Setting/Display: Digital control(controlled by the main controller) Double jacketed bath body (Safe to touch)
TECHNICAL SPECIFICATIONS
Dimensions(W x D x H): 720 x 340 x 510mm Power source: AC 220V 50/60Hz 2.5A / Weight: 20kg Distinguished Features 6 different types of flasks are attachable (from 50ml to 3000ml) Digital speed control Digital R P.M Display / Speed control range: 20-280 R P.M Slant type condenser Digital interior temperature measure and display (It catches the temperature changes caused by the interior pressure drops) Motorized UP- DOWN control switch Easy to utilize standard distillation solution Included Water bath HS-3001(PTFE coating) Heater: 1000W / Bath Material: SUS304 / Weight: 2,8kg Bath Dimensions) (Øx H)mm: 245 x 120(Capacity:4 3 /) Required Power Source: AC 220V 60Hz 4.5A Distinguished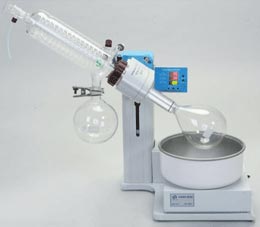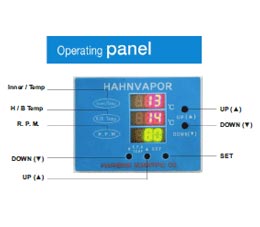 AXIVA - Vaccum Rotary Evaporator HS-2005V-N (CE)
FEATURES
If the amount of water goes down under the certain threshold in the heating bath, the system automatically turns off its power for the safety purpose Temp.Control range: Amb,~180t Temp.Setting/Display: Digital control(controlled by the main controller) Double jacketed bath body (Safe to touch)
TECHNICAL SPECIFICATIONS
Dimensions (W x D x H): 730 x 410 x 630mm Power source : AC 220V 50/60HZ 2.5A / Weight: 19.5kg Distinguished Features 6 different types of flasks are attachable (from 50ml to 3000ml) Digital speed control Digital R PM Display / Speed control range: 20-280 R.P.M Slant type condenser Digital interior temperature measure and display (It catches the temperature changes caused by the interior pressure drops) Motorized UP- DOWN control switch Easy to utilize standard distillation solution Included Water bath HS-3001(PTFE coating) Heater: 1000W / Bath Material: SUS304 / Weight: 2.8kg Bath Dimensions) f x H)mm: 245 x 120(Capacity:4.3 /) Required Power Source : AC 220V 60Hz 4.5A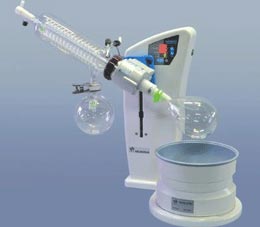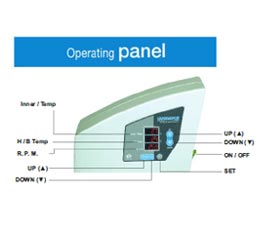 AXIVA - CHILLER FOR EVAPORATOR HS-3005N (CE)
FEATURES:
As a source of cooling water to the Rotary Evaporator and as a heat-emitting equipment it supplies sufficient quantity of cooling water as highly efficient chemical pumps are installed and does not contaminate other instruments as it does not get corroded.
Technical Specification :
Capacity
4 ltr
Bath Dimension(D x H)
190 x 200
Circulator Pump
Magnet 20W Max. flow 15C/min
Temperature Range
Down to- -20 C
Controller
FND Controller
Refrigerator
1/3HP
Refrigerant
134A
Dimension(W x D x H)
250 x 510 x510mm
Gross weight
28kg
Power consumption
334W
Power Supply
AC 230V, 50/60Hz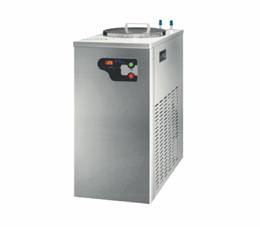 AXIVA - Vacuum Controller AHS-0245
FEATURES
Solid state module maintains precise control (i 3%) of the system vacuum by cycling the pump on/off as reuired. Adjustable for any level between 1mmHg and 760mmHg
TECHNICAL SPECIFICATIONS
Power source : AC 220V 50/60HZ
Dimensions(WxDxH): 160- 130x95mm
Weight: 1.8kg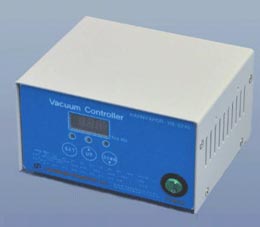 AXIVA -Electric Aspirator AHS-3000
FEATURES:
• Excessive consumption of water may be reduced that can happen when city piped water is used.
• Utilizing water pressure gained by motor pump, two aspirators can be installed,
• By preventing reflux of air, vacuum, filtering and vacuum distillation are possible.
• Applicable to Rotary vacuum evaporator.
• A cooling coil could be installed to prevent the loss of vacuum effect in the case when the water temperature increases (option).
• Vacuum controller could be equipped for checking degree of vacuum status during the operation.
• Bath is made of polypropylene which is strong and lasts long.
Technical Specification :
Pump Capacity
180/minx2EA
Bath Capacity
8C
Motor Power
150W
Material of Bath
Polypropylene
Material of Aspirator
Metal 2 pcs
Safety
Fuse
Power source
AC 220V 50/60HZ 0.7A
Dimensions(W * D * H)
320 x 240 x 330mm
Weight
6kg