ENSO C8 column is more polar phase than C18 & used for excellent resolution for critical separation. ENSO C8 column is less hydrophobic column with high surface area that is about 440m2/g.
This column is ideal choice when analytical laboratories need extra selectivity and more speed than the C18 column. The superior resolution of ENSO C8 column speeding up method development and validation. These columns are highly stable and produce ever reliable results with an extended column life.
The column comes with protective end-capping for a better peak without tailing and high durability of column. Faster, sharp and reproducible responses are definitely possible with ENSO C8 columns. Column packing sustains any pH range between 1.5 and 10 for longer periods due to the highly innovative bonding technology.
Technical Details:
Silica type
Spherical
Silica Purity
99.999%
Carbon Load
15%
Surface Area
440 m2/gram
PH Range
1.5-10
Particle Size
3µm, 3.5µm, 5µm and 10µm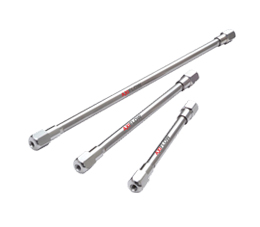 Applications :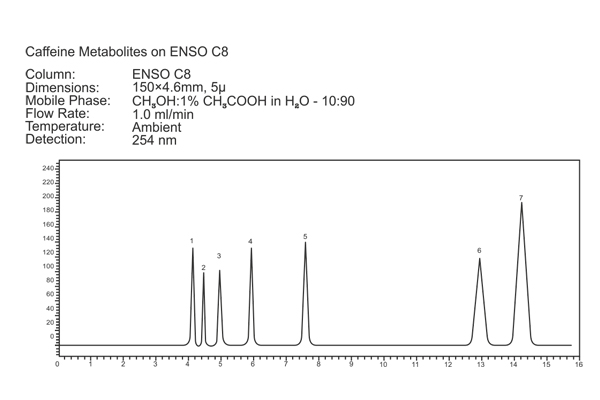 Separation Of Positional Isomers
Compound Name : 1. 7-Methylxanthine | 2. 1-Methyluric acid | 3. 3-Methylxanthine 4. 1-Methylxanthine | 5. 3,7-Dimethylxanthine | 6. 1,7-Dimethylxanthine 7. 1,3-DimethylxanthineM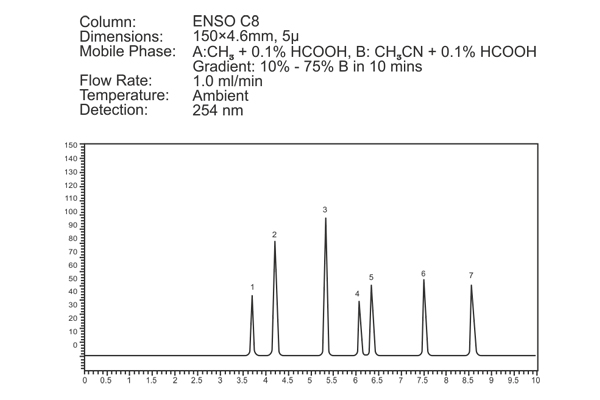 Application Of Cold Medicine
Compound Name : 1. Acetylsalicylic acid (Aspirin) | 2. Salicylic acid | 3. Acetaminophen 4. Chlorpheniramine maleate | 5. Dextromethorphan Hbr 6. Diphenhydramine Hcl | 7. Doxylamine succinate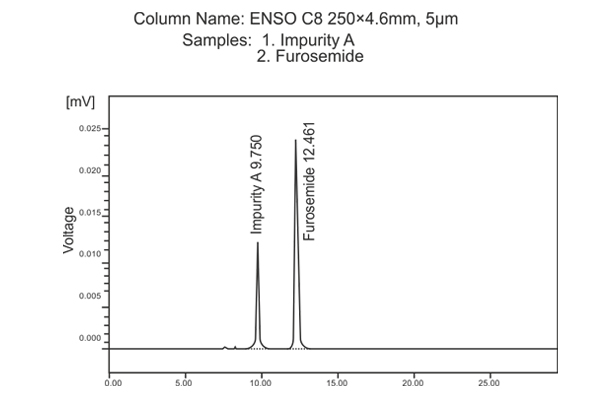 Related Substances Of Furosemide (Frusemide) By HPLC
Compound Name : 1. Furosemide | 2. Impurity A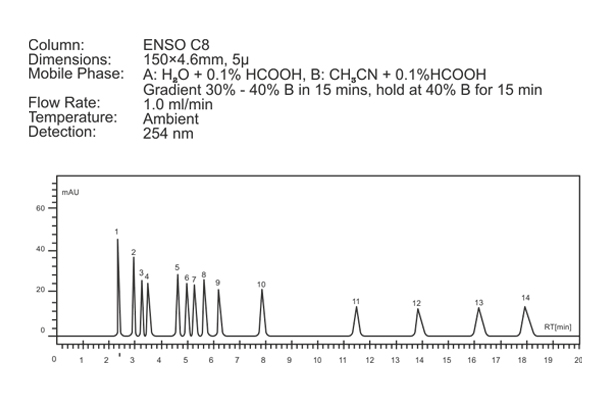 Application Of TCAs and Benzos mix
Compound Name : 1. 7-Aminoclonazepam | 2. 7-Aminoflunitrazepam | 3. Nordoxepin 4. Doxepin | 5. Desipramine | 6. Imipramine | 7. Nortriptyline 8. Amitriptyline | 9. Trimipramine | 10. Clomipramine 11. Nordiazepam | 12. Clonazepam | 13. Flunitrazepam | 14. Diazepam
Ordering Information
Part Number
Phase
Particle
Size (µm)
Length
(mm)
ID (mm)
ENS.C8.46.300.0515
ENSO C8
5
300
4.6
ENS.C8.40.300.0515
ENSO C8
5
300
4
ENS.C8.46.250.0515
ENSO C8
5
250
4.6
ENS.C8.40.250.0515
ENSO C8
5
250
4
ENS.C8.30.250.0515
ENSO C8
5
250
3
ENS.C8.20.250.0515
ENSO C8
5
250
2
ENS.C8.10.250.0515
ENSO C8
5
250
1
ENS.C8.46.200.0515
ENSO C8
5
200
4.6
ENS.C8.40.200.0515
ENSO C8
5
200
4
ENS.C8.30.200.0515
ENSO C8
5
200
3
ENS.C8.20.200.0515
ENSO C8
5
200
2
ENS.C8.10.200.0515
ENSO C8
5
200
1
ENS.C8.46.150.0515
ENSO C8
5
150
4.6
ENS.C8.40.150.0515
ENSO C8
5
150
4
ENS.C8.30.150.0515
ENSO C8
5
150
3
ENS.C8.20.150.0515
ENSO C8
5
150
2
ENS.C8.10.150.0515
ENSO C8
5
150
1
ENS.C8.46.125.0515
ENSO C8
5
125
4.6
ENS.C8.40.125.0515
ENSO C8
5
125
4
ENS.C8.30.125.0515
ENSO C8
5
125
3
ENS.C8.20.125.0515
ENSO C8
5
125
2
ENS.C8.10.125.0515
ENSO C8
5
125
1
ENS.C8.46.100.0515
ENSO C8
5
100
4.6
ENS.C8.40.100.0515
ENSO C8
5
100
4
ENS.C8.30.100.0515
ENSO C8
5
100
3
ENS.C8.20.100.0515
ENSO C8
5
100
2
ENS.C8.10.100.0515
ENSO C8
5
100
1
ENS.C8.46.75.0515
ENSO C8
5
75
4.6
ENS.C8.40.75.0515
ENSO C8
5
75
4
ENS.C8.30.75.0515
ENSO C8
5
75
3
ENS.C8.20.75.0515
ENSO C8
5
75
2
ENS.C8.10.75.0515
ENSO C8
5
75
1
ENS.C8.46.50.0515
ENSO C8
5
50
4.6
ENS.C8.40.50.0515
ENSO C8
5
50
4
ENS.C8.30.50.0515
ENSO C8
5
50
3
ENS.C8.20.50.0515
ENSO C8
5
50
2
ENS.C8.10.50.0515
ENSO C8
5
50
1
ENS.C8.46.33.0515
ENSO C8
5
33
4.6
ENS.C8.40.33.0515
ENSO C8
5
33
4
ENS.C8.30.33.0515
ENSO C8
5
33
3
ENS.C8.20.33.0515
ENSO C8
5
33
2
ENS.C8.10.33.0515
ENSO C8
5
33
1
ENS.C8.46.30.0515
ENSO C8
5
30
4.6
ENS.C8.40.30.0515
ENSO C8
5
30
4
ENS.C8.30.30.0515
ENSO C8
5
30
3
ENS.C8.20.30.0515
ENSO C8
5
30
2
ENS.C8.10.30.0515
ENSO C8
5
30
1
ENS.C8.20.20.0515
ENSO C8
5
20
2
ENS.C8.46.300.0315
ENSO C8
3
300
4.6
ENS.C8.40.300.0315
ENSO C8
3
300
4
ENS.C8.46.250.0315
ENSO C8
3
250
4.6
ENS.C8.40.250.0315
ENSO C8
3
250
4
ENS.C8.30.250.0315
ENSO C8
3
250
3
ENS.C8.20.250.0315
ENSO C8
3
250
2
ENS.C8.10.250.0315
ENSO C8
3
250
1
ENS.C8.46.200.0315
ENSO C8
3
200
4.6
ENS.C8.40.200.0315
ENSO C8
3
200
4
ENS.C8.30.200.0315
ENSO C8
3
200
3
ENS.C8.20.200.0315
ENSO C8
3
200
2
ENS.C8.10.200.0315
ENSO C8
3
200
1
ENS.C8.46.150.0315
ENSO C8
3
150
4.6
ENS.C8.40.150.0315
ENSO C8
3
150
4
ENS.C8.30.150.0315
ENSO C8
3
150
3
ENS.C8.20.150.0315
ENSO C8
3
150
2
ENS.C8.10.150.0315
ENSO C8
3
150
1
ENS.C8.46.125.0315
ENSO C8
3
125
4.6
ENS.C8.40.125.0315
ENSO C8
3
125
4
ENS.C8.30.125.0315
ENSO C8
3
125
3
ENS.C8.20.125.0315
ENSO C8
3
125
2
ENS.C8.10.125.0315
ENSO C8
3
125
1
ENS.C8.46.100.0315
ENSO C8
3
100
4.6
ENS.C8.40.100.0315
ENSO C8
3
100
4
Ordering Information
Part Number
Phase
Particle
Size (µm)
Length
(mm)
ID (mm)
ENS.C8.30.100.0315
ENSO C8
3
100
3
ENS.C8.20.100.0315
ENSO C8
3
100
2
ENS.C8.10.100.0315
ENSO C8
3
100
1
ENS.C8.46.75.0315
ENSO C8
3
75
4.6
ENS.C8.40.75.0315
ENSO C8
3
75
4
ENS.C8.30.75.0315
ENSO C8
3
75
3
ENS.C8.20.75.0315
ENSO C8
3
75
2
ENS.C8.10.75.0315
ENSO C8
3
75
1
ENS.C8.46.50.0315
ENSO C8
3
50
4.6
ENS.C8.40.50.0315
ENSO C8
3
50
4
ENS.C8.30.50.0315
ENSO C8
3
50
3
ENS.C8.20.50.0315
ENSO C8
3
50
2
ENS.C8.10.50.0315
ENSO C8
3
50
1
ENS.C8.46.33.0315
ENSO C8
3
33
4.6
ENS.C8.40.33.0315
ENSO C8
3
33
4
ENS.C8.30.33.0315
ENSO C8
3
33
3
ENS.C8.20.33.0315
ENSO C8
3
33
2
ENS.C8.10.33.0315
ENSO C8
3
33
1
ENS.C8.46.30.0315
ENSO C8
3
30
4.6
ENS.C8.40.30.0315
ENSO C8
3
30
4
ENS.C8.30.30.0315
ENSO C8
3
30
3
ENS.C8.20.30.0315
ENSO C8
3
30
2
ENS.C8.10.30.0315
ENSO C8
3
30
1
ENS.C8.20.20.0315
ENSO C8
3
20
2
ENS.C8.46.300.1015
ENSO C8
10
300
4.6
ENS.C8.40.300.1015
ENSO C8
10
300
4
ENS.C8.46.250.1015
ENSO C8
10
250
4.6
ENS.C8.40.250.1015
ENSO C8
10
250
4
ENS.C8.30.250.1015
ENSO C8
10
250
3
ENS.C8.20.250.1015
ENSO C8
10
250
2
ENS.C8.10.250.1015
ENSO C8
10
250
1
ENS.C8.46.200.1015
ENSO C8
10
200
4.6
ENS.C8.40.200.1015
ENSO C8
10
200
4
ENS.C8.30.200.1015
ENSO C8
10
200
3
ENS.C8.20.200.1015
ENSO C8
10
200
2
ENS.C8.10.200.1015
ENSO C8
10
200
1
ENS.C8.46.150.1015
ENSO C8
10
150
4.6
ENS.C8.40.150.1015
ENSO C8
10
150
4
ENS.C8.30.150.1015
ENSO C8
10
150
3
ENS.C8.20.150.1015
ENSO C8
10
150
2
ENS.C8.10.150.1015
ENSO C8
10
150
1
ENS.C8.46.125.1015
ENSO C8
10
125
4.6
ENS.C8.40.125.1015
ENSO C8
10
125
4
ENS.C8.30.125.1015
ENSO C8
10
125
3
ENS.C8.20.125.1015
ENSO C8
10
125
2
ENS.C8.10.125.1015
ENSO C8
10
125
1
ENS.C8.46.100.1015
ENSO C8
10
100
4.6
ENS.C8.40.100.1015
ENSO C8
10
100
4
ENS.C8.30.100.1015
ENSO C8
10
100
3
ENS.C8.20.100.1015
ENSO C8
10
100
2
ENS.C8.10.100.1015
ENSO C8
10
100
1
ENS.C8.46.75.1015
ENSO C8
10
75
4.6
ENS.C8.40.75.1015
ENSO C8
10
75
4
ENS.C8.30.75.1015
ENSO C8
10
75
3
ENS.C8.20.75.1015
ENSO C8
10
75
2
ENS.C8.10.75.1015
ENSO C8
10
75
1
ENS.C8.46.50.1015
ENSO C8
10
50
4.6
ENS.C8.40.50.1015
ENSO C8
10
50
4
ENS.C8.30.50.1015
ENSO C8
10
50
3
ENS.C8.20.50.1015
ENSO C8
10
50
2
ENS.C8.10.50.1015
ENSO C8
10
50
1
ENS.C8.46.33.1015
ENSO C8
10
33
4.6
ENS.C8.40.33.1015
ENSO C8
10
33
4
ENS.C8.30.33.1015
ENSO C8
10
33
3
ENS.C8.20.33.1015
ENSO C8
10
33
2
ENS.C8.10.33.1015
ENSO C8
10
33
1
ENS.C8.46.30.1015
ENSO C8
10
30
4.6
ENS.C8.40.30.1015
ENSO C8
10
30
4
ENS.C8.30.30.1015
ENSO C8
10
30
3
ENS.C8.20.30.1015
ENSO C8
10
30
2
ENS.C8.10.30.1015
ENSO C8
10
30
1
ENS.C8.20.20.1015
ENSO C8
10
20
2