AXIFLOW - OUSA C8 (1) Column
OUSA C8 (1) ideal for polar compunds, faster separation than C18(1). The ultra pure silica has surface are of 200m2/g & carbon load is about 8%.
The column comes with protective end-capping for a better peak without tailing and high durability of column. The column chemistry is perfectly suitable for working in the wide pH range of 1.5 to 10.0 due to its outstanding stability which is an acid proof, alkali proof and stable particle technology.
Technical Details:
Silica type
Spherical
Silica Purity
99.999%
Carbon Load
7.4%
Surface Area
200 m2/gram
Pore Size
190 Å
PH Range
1.5-10
Particle Size
3µm, 3.5µm, 5µm and 10µm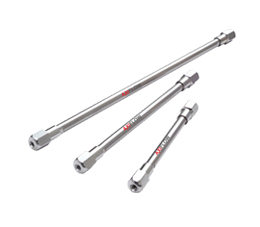 Applications :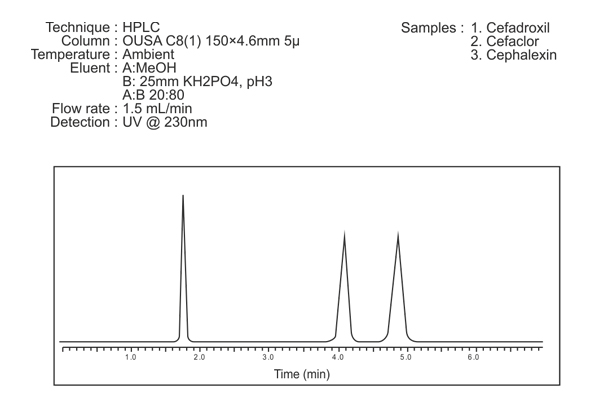 Cephalosporin Antibiotics Drugs
Compound Name : 1. Cefadroxil | 2. Cefaclor | 3. Cephalexin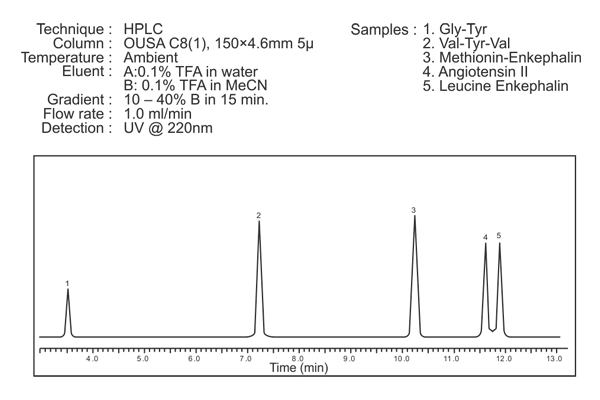 Peptides
Compound Name : 1. Gly-Tyr | 2. Val-Tyr-Val | 3. Methionin-Enkephalin 4. Angiotensin II | 5. Leucine Enkephalin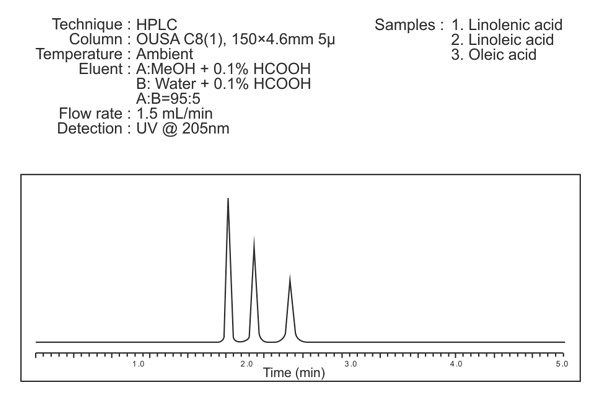 Fatty Acids
Compound Name : 1. Linolenic acid | 2. Linoleic acid | 3. Oleic acid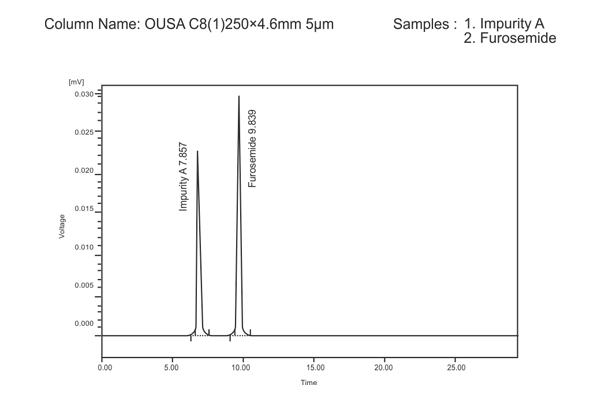 Related Substances of Furosemide (Frusemide) By HPLC
Compound Name : 1. Impurity A | 2. Furosemide
Ordering Information
Part Number
Phase
Particle
Size (µm)
Length
(mm)
ID (mm)
OUS.C8(1).46.300.0574
OUSA C8(1)
5
300
4.6
OUS.C8(1).40.300.0574
OUSA C8(1)
5
300
4
OUS.C8(1).46.250.0574
OUSA C8(1)
5
250
4.6
OUS.C8(1).40.250.0574
OUSA C8(1)
5
250
4
OUS.C8(1).30.250.0574
OUSA C8(1)
5
250
3
OUS.C8(1).20.250.0574
OUSA C8(1)
5
250
2
OUS.C8(1).10.250.0574
OUSA C8(1)
5
250
1
OUS.C8(1).46.200.0574
OUSA C8(1)
5
200
4.6
OUS.C8(1).40.200.0574
OUSA C8(1)
5
200
4
OUS.C8(1).30.200.0574
OUSA C8(1)
5
200
3
OUS.C8(1).20.200.0574
OUSA C8(1)
5
200
2
OUS.C8(1).10.200.0574
OUSA C8(1)
5
200
1
OUS.C8(1).46.150.0574
OUSA C8(1)
5
150
4.6
OUS.C8(1).40.150.0574
OUSA C8(1)
5
150
4
OUS.C8(1).30.150.0574
OUSA C8(1)
5
150
3
OUS.C8(1).20.150.0574
OUSA C8(1)
5
150
2
OUS.C8(1).10.150.0574
OUSA C8(1)
5
150
1
OUS.C8(1).46.125.0574
OUSA C8(1)
5
125
4.6
OUS.C8(1).40.125.0574
OUSA C8(1)
5
125
4
OUS.C8(1).30.125.0574
OUSA C8(1)
5
125
3
OUS.C8(1).20.125.0574
OUSA C8(1)
5
125
2
OUS.C8(1).10.125.0574
OUSA C8(1)
5
125
1
OUS.C8(1).46.100.0574
OUSA C8(1)
5
100
4.6
OUS.C8(1).40.100.0574
OUSA C8(1)
5
100
4
OUS.C8(1).30.100.0574
OUSA C8(1)
5
100
3
OUS.C8(1).20.100.0574
OUSA C8(1)
5
100
2
OUS.C8(1).10.100.0574
OUSA C8(1)
5
100
1
OUS.C8(1).46.75.0574
OUSA C8(1)
5
75
4.6
OUS.C8(1).40.75.0574
OUSA C8(1)
5
75
4
OUS.C8(1).30.75.0574
OUSA C8(1)
5
75
3
OUS.C8(1).20.75.0574
OUSA C8(1)
5
75
2
OUS.C8(1).10.75.0574
OUSA C8(1)
5
75
1
OUS.C8(1).46.50.0574
OUSA C8(1)
5
50
4.6
OUS.C8(1).40.50.0574
OUSA C8(1)
5
50
4
OUS.C8(1).30.50.0574
OUSA C8(1)
5
50
3
OUS.C8(1).20.50.0574
OUSA C8(1)
5
50
2
OUS.C8(1).10.50.0574
OUSA C8(1)
5
50
1
OUS.C8(1).46.33.0574
OUSA C8(1)
5
33
4.6
OUS.C8(1).40.33.0574
OUSA C8(1)
5
33
4
OUS.C8(1).30.33.0574
OUSA C8(1)
5
33
3
OUS.C8(1).20.33.0574
OUSA C8(1)
5
33
2
OUS.C8(1).10.33.0574
OUSA C8(1)
5
33
1
OUS.C8(1).46.30.0574
OUSA C8(1)
5
30
4.6
OUS.C8(1).40.30.0574
OUSA C8(1)
5
30
4
OUS.C8(1).30.30.0574
OUSA C8(1)
5
30
3
OUS.C8(1).20.30.0574
OUSA C8(1)
5
30
2
OUS.C8(1).10.30.0574
OUSA C8(1)
5
30
1
OUS.C8(1).20.20.0574
OUSA C8(1)
5
20
2
OUS.C8(1).46.300.0374
OUSA C8(1)
3
300
4.6
OUS.C8(1).40.300.0374
OUSA C8(1)
3
300
4
OUS.C8(1).46.250.0374
OUSA C8(1)
3
250
4.6
OUS.C8(1).40.250.0374
OUSA C8(1)
3
250
4
OUS.C8(1).30.250.0374
OUSA C8(1)
3
250
3
OUS.C8(1).20.250.0374
OUSA C8(1)
3
250
2
OUS.C8(1).10.250.0374
OUSA C8(1)
3
250
1
OUS.C8(1).46.200.0374
OUSA C8(1)
3
200
4.6
OUS.C8(1).40.200.0374
OUSA C8(1)
3
200
4
OUS.C8(1).30.200.0374
OUSA C8(1)
3
200
3
OUS.C8(1).20.200.0374
OUSA C8(1)
3
200
2
OUS.C8(1).10.200.0374
OUSA C8(1)
3
200
1
OUS.C8(1).46.150.0374
OUSA C8(1)
3
150
4.6
OUS.C8(1).40.150.0374
OUSA C8(1)
3
150
4
OUS.C8(1).30.150.0374
OUSA C8(1)
3
150
3
OUS.C8(1).20.150.0374
OUSA C8(1)
3
150
2
OUS.C8(1).10.150.0374
OUSA C8(1)
3
150
1
OUS.C8(1).46.125.0374
OUSA C8(1)
3
125
4.6
OUS.C8(1).40.125.0374
OUSA C8(1)
3
125
4
OUS.C8(1).30.125.0374
OUSA C8(1)
3
125
3
OUS.C8(1).20.125.0374
OUSA C8(1)
3
125
2
OUS.C8(1).10.125.0374
OUSA C8(1)
3
125
1
OUS.C8(1).46.100.0374
OUSA C8(1)
3
100
4.6
OUS.C8(1).40.100.0374
OUSA C8(1)
3
100
4
Ordering Information
Part Number
Phase
Particle
Size (µm)
Length
(mm)
ID (mm)
OUS.C8(1).30.100.0374
OUSA C8(1)
3
100
3
OUS.C8(1).20.100.0374
OUSA C8(1)
3
100
2
OUS.C8(1).10.100.0374
OUSA C8(1)
3
100
1
OUS.C8(1).46.75.0374
OUSA C8(1)
3
75
4.6
OUS.C8(1).40.75.0374
OUSA C8(1)
3
75
4
OUS.C8(1).30.75.0374
OUSA C8(1)
3
75
3
OUS.C8(1).20.75.0374
OUSA C8(1)
3
75
2
OUS.C8(1).10.75.0374
OUSA C8(1)
3
75
1
OUS.C8(1).46.50.0374
OUSA C8(1)
3
50
4.6
OUS.C8(1).40.50.0374
OUSA C8(1)
3
50
4
OUS.C8(1).30.50.0374
OUSA C8(1)
3
50
3
OUS.C8(1).20.50.0374
OUSA C8(1)
3
50
2
OUS.C8(1).10.50.0374
OUSA C8(1)
3
50
1
OUS.C8(1).46.33.0374
OUSA C8(1)
3
33
4.6
OUS.C8(1).40.33.0374
OUSA C8(1)
3
33
4
OUS.C8(1).30.33.0374
OUSA C8(1)
3
33
3
OUS.C8(1).20.33.0374
OUSA C8(1)
3
33
2
OUS.C8(1).10.33.0374
OUSA C8(1)
3
33
1
OUS.C8(1).46.30.0374
OUSA C8(1)
3
30
4.6
OUS.C8(1).40.30.0374
OUSA C8(1)
3
30
4
OUS.C8(1).30.30.0374
OUSA C8(1)
3
30
3
OUS.C8(1).20.30.0374
OUSA C8(1)
3
30
2
OUS.C8(1).10.30.0374
OUSA C8(1)
3
30
1
OUS.C8(1).20.20.0374
OUSA C8(1)
3
20
2
OUS.C8(1).46.300.1074
OUSA C8(1)
10
300
4.6
OUS.C8(1).40.300.1074
OUSA C8(1)
10
300
4
OUS.C8(1).46.250.1074
OUSA C8(1)
10
250
4.6
OUS.C8(1).40.250.1074
OUSA C8(1)
10
250
4
OUS.C8(1).30.250.1074
OUSA C8(1)
10
250
3
OUS.C8(1).20.250.1074
OUSA C8(1)
10
250
2
OUS.C8(1).10.250.1074
OUSA C8(1)
10
250
1
OUS.C8(1).46.200.1074
OUSA C8(1)
10
200
4.6
OUS.C8(1).40.200.1074
OUSA C8(1)
10
200
4
OUS.C8(1).30.200.1074
OUSA C8(1)
10
200
3
OUS.C8(1).20.200.1074
OUSA C8(1)
10
200
2
OUS.C8(1).10.200.1074
OUSA C8(1)
10
200
1
OUS.C8(1).46.150.1074
OUSA C8(1)
10
150
4.6
OUS.C8(1).40.150.1074
OUSA C8(1)
10
150
4
OUS.C8(1).30.150.1074
OUSA C8(1)
10
150
3
OUS.C8(1).20.150.1074
OUSA C8(1)
10
150
2
OUS.C8(1).10.150.1074
OUSA C8(1)
10
150
1
OUS.C8(1).46.125.1074
OUSA C8(1)
10
125
4.6
OUS.C8(1).40.125.1074
OUSA C8(1)
10
125
4
OUS.C8(1).30.125.1074
OUSA C8(1)
10
125
3
OUS.C8(1).20.125.1074
OUSA C8(1)
10
125
2
OUS.C8(1).10.125.1074
OUSA C8(1)
10
125
1
OUS.C8(1).46.100.1074
OUSA C8(1)
10
100
4.6
OUS.C8(1).40.100.1074
OUSA C8(1)
10
100
4
OUS.C8(1).30.100.1074
OUSA C8(1)
10
100
3
OUS.C8(1).20.100.1074
OUSA C8(1)
10
100
2
OUS.C8(1).10.100.1074
OUSA C8(1)
10
100
1
OUS.C8(1).46.75.1074
OUSA C8(1)
10
75
4.6
OUS.C8(1).40.75.1074
OUSA C8(1)
10
75
4
OUS.C8(1).30.75.1074
OUSA C8(1)
10
75
3
OUS.C8(1).20.75.1074
OUSA C8(1)
10
75
2
OUS.C8(1).10.75.1074
OUSA C8(1)
10
75
1
OUS.C8(1).46.50.1074
OUSA C8(1)
10
50
4.6
OUS.C8(1).40.50.1074
OUSA C8(1)
10
50
4
OUS.C8(1).30.50.1074
OUSA C8(1)
10
50
3
OUS.C8(1).20.50.1074
OUSA C8(1)
10
50
2
OUS.C8(1).10.50.1074
OUSA C8(1)
10
50
1
OUS.C8(1).46.33.1074
OUSA C8(1)
10
33
4.6
OUS.C8(1).40.33.1074
OUSA C8(1)
10
33
4
OUS.C8(1).30.33.1074
OUSA C8(1)
10
33
3
OUS.C8(1).20.33.1074
OUSA C8(1)
10
33
2
OUS.C8(1).10.33.1074
OUSA C8(1)
10
33
1
OUS.C8(1).46.30.1074
OUSA C8(1)
10
30
4.6
OUS.C8(1).40.30.1074
OUSA C8(1)
10
30
4
OUS.C8(1).30.30.1074
OUSA C8(1)
10
30
3
OUS.C8(1).20.30.1074
OUSA C8(1)
10
30
2
OUS.C8(1).10.30.1074
OUSA C8(1)
10
30
1
OUS.C8(1).20.30.1074
OUSA C8(1)
10
20
2