AXIFLOW - OXAL C18 (1) Column
For all round applications OXAL C18 (1) column having perfect hydrophobic selectivity speeds up separation, eminent capability and reliability. Ultrapure (99.999%) and high surface area (200m2/g)silica used in preparation of OXAL C18 (1). The column has reduced carbon load of about 13% and unique bonding technology to achieve excellent resolution, good Peak symmetry and high performance over wide pH range.

The column comes with protective end-capping for a better peak without tailing and high durability of column. OXAL C18 (1) columns possess reduced hydrophobicity for attaining perfect hydrophobic selectivity and superior resolution. OXAL C18 (1) column is perfect choice for all round applications in the analysis of acidic, basic and neutral compounds.
Technical Details :
Silica type
Spherical
Silica Purity
99.999%
Carbon Load
13%
Surface Area
200 m2/gram
Pore Size
190 A°
PH Range
1.5- 10
Particle size
3, 3.5, 5, 10 µM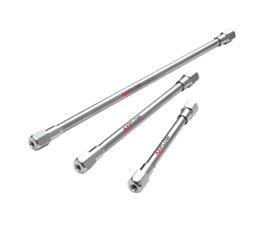 Applications :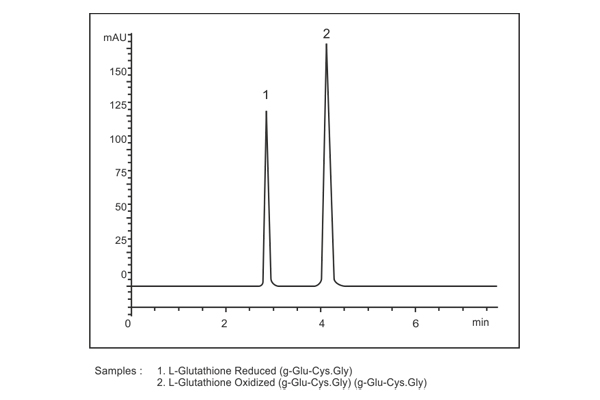 Reduced and Oxidized Glutathione
Column Name : OXAL C18(1) HPLC Column Column : OXAL C18(1), 150 x 4.6 mm, 5µm Mobile Phase : H20 + 0.1% TFA, pH 2.0:CH3OH - 90:10 Flow Rate : 1.0 ml/min |
Temperature : Ambient | Detection : 215 nm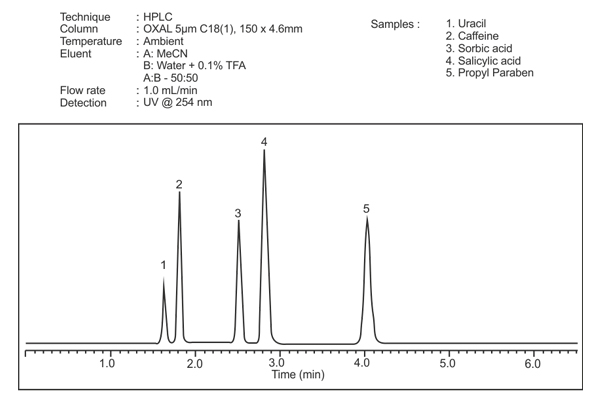 Acidic compounds
Column Name : OXAL C18(1) HPLC Column
Compound Name : Sorbic acid, Salicylic acid, Uracil Caffeine, Propyl paraben
Ordering Information
Part Number
Phase
Particle
Size (µm)
Length
(mm)
ID (mm)
OXL.C18(1).46.300.0513
OXAL C18(1)
5
300
4.6
OXL.C18(1).40.300.0513
OXAL C18(1)
5
300
4
OXL.C18(1).46.250.0513
OXAL C18(1)
5
250
4.6
OXL.C18(1).40.250.0513
OXAL C18(1)
5
250
4
OXL.C18(1).30.250.0513
OXAL C18(1)
5
250
3
OXL.C18(1).20.250.0513
OXAL C18(1)
5
250
2
OXL.C18(1).10.250.0513
OXAL C18(1)
5
250
1
OXL.C18(1).46.200.0513
OXAL C18(1)
5
200
4.6
OXL.C18(1).40.200.0513
OXAL C18(1)
5
200
4
OXL.C18(1).30.200.0513
OXAL C18(1)
5
200
3
OXL.C18(1).20.200.0513
OXAL C18(1)
5
200
2
OXL.C18(1).10.200.0513
OXAL C18(1)
5
200
1
OXL.C18(1).46.150.0513
OXAL C18(1)
5
150
4.6
OXL.C18(1).40.150.0513
OXAL C18(1)
5
150
4
OXL.C18(1).30.150.0513
OXAL C18(1)
5
150
3
OXL.C18(1).20.150.0513
OXAL C18(1)
5
150
2
OXL.C18(1).10.150.0513
OXAL C18(1)
5
150
1
OXL.C18(1).46.125.0513
OXAL C18(1)
5
125
4.6
OXL.C18(1).40.125.0513
OXAL C18(1)
5
125
4
OXL.C18(1).30.125.0513
OXAL C18(1)
5
125
3
OXL.C18(1).20.125.0513
OXAL C18(1)
5
125
2
OXL.C18(1).10.125.0513
OXAL C18(1)
5
125
1
OXL.C18(1).46.100.0513
OXAL C18(1)
5
100
4.6
OXL.C18(1).40.100.0513
OXAL C18(1)
5
100
4
OXL.C18(1).30.100.0513
OXAL C18(1)
5
100
3
OXL.C18(1).20.100.0513
OXAL C18(1)
5
100
2
OXL.C18(1).10.100.0513
OXAL C18(1)
5
100
1
OXL.C18(1).46.75.0513
OXAL C18(1)
5
75
4.6
OXL.C18(1).40.75.0513
OXAL C18(1)
5
75
4
OXL.C18(1).30.75.0513
OXAL C18(1)
5
75
3
OXL.C18(1).20.75.0513
OXAL C18(1)
5
75
2
OXL.C18(1).10.75.0513
OXAL C18(1)
5
75
1
OXL.C18(1).46.50.0513
OXAL C18(1)
5
50
4.6
OXL.C18(1).40.50.0513
OXAL C18(1)
5
50
4
OXL.C18(1).30.50.0513
OXAL C18(1)
5
50
3
OXL.C18(1).20.50.0513
OXAL C18(1)
5
50
2
OXL.C18(1).10.50.0513
OXAL C18(1)
5
50
1
OXL.C18(1).46.33.0513
OXAL C18(1)
5
33
4.6
OXL.C18(1).40.33.0513
OXAL C18(1)
5
33
4
OXL.C18(1).30.33.0513
OXAL C18(1)
5
33
3
OXL.C18(1).20.33.0513
OXAL C18(1)
5
33
2
OXL.C18(1).10.33.0513
OXAL C18(1)
5
33
1
OXL.C18(1).46.30.0513
OXAL C18(1)
5
30
4.6
OXL.C18(1).40.30.0513
OXAL C18(1)
5
30
4
OXL.C18(1).30.30.0513
OXAL C18(1)
5
30
3
OXL.C18(1).20.30.0513
OXAL C18(1)
5
30
2
OXL.C18(1).10.30.0513
OXAL C18(1)
5
30
1
OXL.C18(1).20.20.0513
OXAL C18(1)
5
20
2
OXL.C18(1).46.300.0313
OXAL C18(1)
3
300
4.6
OXL.C18(1).40.300.0313
OXAL C18(1)
3
300
4
OXL.C18(1).46.250.0313
OXAL C18(1)
3
250
4.6
OXL.C18(1).40.250.0313
OXAL C18(1)
3
250
4
OXL.C18(1).30.250.0313
OXAL C18(1)
3
250
3
OXL.C18(1).20.250.0313
OXAL C18(1)
3
250
2
OXL.C18(1).10.250.0313
OXAL C18(1)
3
250
1
OXL.C18(1).46.200.0313
OXAL C18(1)
3
200
4.6
OXL.C18(1).40.200.0313
OXAL C18(1)
3
200
4
OXL.C18(1).30.200.0313
OXAL C18(1)
3
200
3
OXL.C18(1).20.200.0313
OXAL C18(1)
3
200
2
OXL.C18(1).10.200.0313
OXAL C18(1)
3
200
1
OXL.C18(1).46.150.0313
OXAL C18(1)
3
150
4.6
OXL.C18(1).40.150.0313
OXAL C18(1)
3
150
4
OXL.C18(1).30.150.0313
OXAL C18(1)
3
150
3
OXL.C18(1).20.150.0313
OXAL C18(1)
3
150
2
OXL.C18(1).10.150.0313
OXAL C18(1)
3
150
1
OXL.C18(1).46.125.0313
OXAL C18(1)
3
125
4.6
OXL.C18(1).40.125.0313
OXAL C18(1)
3
125
4
OXL.C18(1).30.125.0313
OXAL C18(1)
3
125
3
OXL.C18(1).20.125.0313
OXAL C18(1)
3
125
2
OXL.C18(1).10.125.0313
OXAL C18(1)
3
125
1
OXL.C18(1).46.100.0313
OXAL C18(1)
3
100
4.6
OXL.C18(1).40.100.0313
OXAL C18(1)
3
100
4
Ordering Information
Part Number
Phase
Particle
Size (µm)
Length
(mm)
ID (mm)
OXL.C18(1).30.100.0313
OXAL C18(1)
3
100
3
OXL.C18(1).20.100.0313
OXAL C18(1)
3
100
2
OXL.C18(1).10.100.0313
OXAL C18(1)
3
100
1
OXL.C18(1).46.75.0313
OXAL C18(1)
3
75
4.6
OXL.C18(1).40.75.0313
OXAL C18(1)
3
75
4
OXL.C18(1).30.75.0313
OXAL C18(1)
3
75
3
OXL.C18(1).20.75.0313
OXAL C18(1)
3
75
2
OXL.C18(1).10.75.0313
OXAL C18(1)
3
75
1
OXL.C18(1).46.50.0313
OXAL C18(1)
3
50
4.6
OXL.C18(1).40.50.0313
OXAL C18(1)
3
50
4
OXL.C18(1).30.50.0313
OXAL C18(1)
3
50
3
OXL.C18(1).20.50.0313
OXAL C18(1)
3
50
2
OXL.C18(1).10.50.0313
OXAL C18(1)
3
50
1
OXL.C18(1).46.33.0313
OXAL C18(1)
3
33
4.6
OXL.C18(1).40.33.0313
OXAL C18(1)
3
33
4
OXL.C18(1).30.33.0313
OXAL C18(1)
3
33
3
OXL.C18(1).20.33.0313
OXAL C18(1)
3
33
2
OXL.C18(1).10.33.0313
OXAL C18(1)
3
33
1
OXL.C18(1).46.30.0313
OXAL C18(1)
3
30
4.6
OXL.C18(1).40.30.0313
OXAL C18(1)
3
30
4
OXL.C18(1).30.30.0313
OXAL C18(1)
3
30
3
OXL.C18(1).20.30.0313
OXAL C18(1)
3
30
2
OXL.C18(1).10.30.0313
OXAL C18(1)
3
30
1
OXL.C18(1).20.20.0313
OXAL C18(1)
3
20
2
OXL.C18(1).46.300.1013
OXAL C18(1)
10
300
4.6
OXL.C18(1).40.300.1013
OXAL C18(1)
10
300
4
OXL.C18(1).46.250.1013
OXAL C18(1)
10
250
4.6
OXL.C18(1).40.250.1013
OXAL C18(1)
10
250
4
OXL.C18(1).30.250.1013
OXAL C18(1)
10
250
3
OXL.C18(1).20.250.1013
OXAL C18(1)
10
250
2
OXL.C18(1).10.250.1013
OXAL C18(1)
10
250
1
OXL.C18(1).46.200.1013
OXAL C18(1)
10
200
4.6
OXL.C18(1).40.200.1013
OXAL C18(1)
10
200
4
OXL.C18(1).30.200.1013
OXAL C18(1)
10
200
3
OXL.C18(1).20.200.1013
OXAL C18(1)
10
200
2
OXL.C18(1).10.200.1013
OXAL C18(1)
10
200
1
OXL.C18(1).46.150.1013
OXAL C18(1)
10
150
4.6
OXL.C18(1).40.150.1013
OXAL C18(1)
10
150
4
OXL.C18(1).30.150.1013
OXAL C18(1)
10
150
3
OXL.C18(1).20.150.1013
OXAL C18(1)
10
150
2
OXL.C18(1).10.150.1013
OXAL C18(1)
10
150
1
OXL.C18(1).46.125.1013
OXAL C18(1)
10
125
4.6
OXL.C18(1).40.125.1013
OXAL C18(1)
10
125
4
OXL.C18(1).30.125.1013
OXAL C18(1)
10
125
3
OXL.C18(1).20.125.1013
OXAL C18(1)
10
125
2
OXL.C18(1).10.125.1013
OXAL C18(1)
10
125
1
OXL.C18(1).46.100.1013
OXAL C18(1)
10
100
4.6
OXL.C18(1).40.100.1013
OXAL C18(1)
10
100
4
OXL.C18(1).30.100.1013
OXAL C18(1)
10
100
3
OXL.C18(1).20.100.1013
OXAL C18(1)
10
100
2
OXL.C18(1).10.100.1013
OXAL C18(1)
10
100
1
OXL.C18(1).46.75.1013
OXAL C18(1)
10
75
4.6
OXL.C18(1).40.75.1013
OXAL C18(1)
10
75
4
OXL.C18(1).30.75.1013
OXAL C18(1)
10
75
3
OXL.C18(1).20.75.1013
OXAL C18(1)
10
75
2
OXL.C18(1).10.75.1013
OXAL C18(1)
10
75
1
OXL.C18(1).46.50.1013
OXAL C18(1)
10
50
4.6
OXL.C18(1).40.50.1013
OXAL C18(1)
10
50
4
OXL.C18(1).30.50.1013
OXAL C18(1)
10
50
3
OXL.C18(1).20.50.1013
OXAL C18(1)
10
50
2
OXL.C18(1).10.50.1013
OXAL C18(1)
10
50
1
OXL.C18(1).46.33.1013
OXAL C18(1)
10
33
4.6
OXL.C18(1).40.33.1013
OXAL C18(1)
10
33
4
OXL.C18(1).30.33.1013
OXAL C18(1)
10
33
3
OXL.C18(1).20.33.1013
OXAL C18(1)
10
33
2
OXL.C18(1).10.33.1013
OXAL C18(1)
10
33
1
OXL.C18(1).46.30.1013
OXAL C18(1)
10
30
4.6
OXL.C18(1).40.30.1013
OXAL C18(1)
10
30
4
OXL.C18(1).30.30.1013
OXAL C18(1)
10
30
3
OXL.C18(1).20.30.1013
OXAL C18(1)
10
30
2
OXL.C18(1).10.30.1013
OXAL C18(1)
10
30
1
OXL.C18(1).20.20.1013
OXAL C18(1)
10
20
2