AXIVA - OPTICA CYLINDRICAL CELLS
with PTFE lid all sides polished
Polarimetric Measurement for some applications, e.g. in polarimetri and for circular dichroism measurements, it is important to check that the cells are free of strain birefringence. The effect of possible strain birefringence is determined in the following way: In a polarimeter the rotation of the plane of polarisation of the incident linearly polarised light is measured. The measurement is carried out in a circular area of approximately 3 mm diameter whose centre coincides with the centre height of the empty cell. Because of the measuring geometry, only cells with an aperture diameter or aperture width of greater than 3 mm can be measured in this way.
| Cat No. | Dia (mm) | Path Length | Type |
| --- | --- | --- | --- |
| PQ 010 | 22 mm | 10 mm | macro |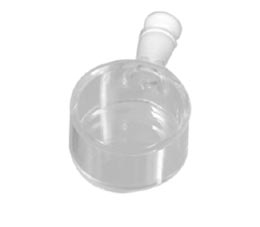 AXIVA - OPTICA CELLS FOR UV SPECTROPHOTOMETER QUARTZ
Two Side Polished With PTFE Covers, Flat From Bottom
| Cat No. | Optical Path Length mm | External Size (mm) | Capacity ml |
| --- | --- | --- | --- |
| SQ0350 | 10 | 12.5 X 12.5 X 45 | 3.50 |
| SQ0700 | 20 | 12.5 X 22.5 X 45 | 7.00 |
| SQ1400 | 40 | 12.5 X 42.5 X 45 | 14.00 |
| SQ1750 | 50 | 12.5 X 52.5 X 45 | 17.50 |
| SQ3500 | 100 | 12.5 X 102.5 X 45 | 35.00 |
| SQ0140 | 10 Oblique midget | 12.5 X 12.5 X 45 | 1.40 |
| SQ0100 | 10 Oblique midget | 12.5 X 12.5 X 45 | 1.00 |
| SQ0070 | 10 | 12.5 X 12.5 X 45 | 0.7 |
| SQ0035 | 1 | 12.5 X 3.5 X 45 | 0.35 |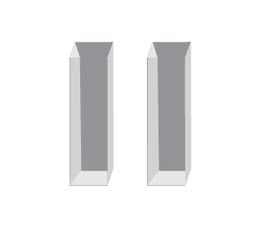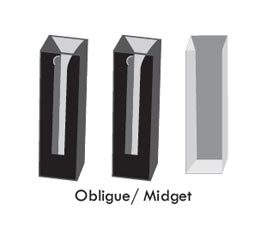 AXIVA -OPTICA CELLS FOR SPECTROPHOTOMETER- GLASS
Two Side Polished With PTFE Covers Flat From Bottom
| Cat No. | Optical Path Length mm | External Size (mm) | Capacity ml |
| --- | --- | --- | --- |
| SG0350 | 10 | 12.5 X 12.5 X 45 | 3.50 |
| SG0700 | 20 | 12.5 X 22.5 X 45 | 7.00 |
| SG1400 | 40 | 12.5 X 42.5 X 45 | 14.00 |
| SG1750 | 50 | 12.5 X 52.5 X 45 | 17.50 |
| SG3500 | 100 | 12.5 X 102.5 X 45 | 35.00 |
| SG0140 | 10 Oblique midget | 12.5 X 12.5 X 45 | 1.40 |
| SG0070 | 10 Oblique midget | 12.5 X 12.5 X 45 | 0.7 |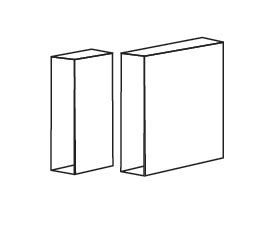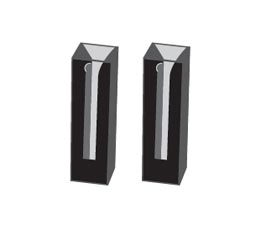 AXIVA - OPTICA CELL FOR SPECTROPHOTOMETER QUARTZ
Two Side Polished With Round Teflon Stopper, Flat From Bottom, 190nm-2500nm
| Cat No. | Path Length mm | External Size (mm) | Capacity ml |
| --- | --- | --- | --- |
| RSQ0350 | 1O | 12.5 X 12.5 X 45 | 3.5 |
| RSQ0140 | 1O | 12.5 X 12.5 X 45 | 1.4 |
| RSQ0070 | 1O | 12.5 X 12.5 X 45 | 0.7 |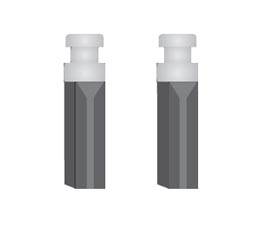 AXIVA - OPTICA CELLS FOR FLOURIMETER-QUARTZ
All Four Sides Polished With PTFE Covers
| Cat No. | Capacity ml | Path Length mm | Type |
| --- | --- | --- | --- |
| FQ0350 | 3.5 | 10 | macro |
| FQ0140 | 1.4 | 10 | micro |
| FQ0050 | 0.5 | 10 | micro |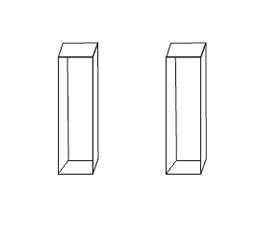 AXIVA - OPTICA CELLS FOR FLOURIMETER -GLASS
All Four Sides Polished With PTFE Covers
| Cat No. | Capacity ml | Path Length mm | Type |
| --- | --- | --- | --- |
| FG0350 | 3.5 | 10 | macro |
| FG0140 | 1.4 | 10 | micro |
| FG0050 | 0.5 | 10 | micro |