AXIFLOW - GRAV C18 Analytical Columns
For analytical use GRAV C18 column having high resolution of complex mixtures and Ideal retention. Ultrapure (99.999%) and high surface area (440m2/g)silica used in preparation of GRAV C18. The column has high carbon load of about 24% and unique bonding technology to achieve excellent resolution, good Peak symmetry and high performance over wide pH range. GRAV C18 column deliver the best results, faster performance with an extended column life.
The column comes with protective end-capping to give better peak without tailing and high durability of column. GRAV C18 columns are designed to increase productivity, as they offer maximum load ability, excellent stability while maintaining superior resolution. GRAV C18 columns provide consistent performance, uncompromising chromatography and have extended lifetime even under the most demanding conditions. GRAV C18 column is an ideal choice for polar compounds.
Technical Details:
Silica type
Spherical
Silica Purity
99.999%
Carbon Load
24%
Surface Area
440 m2/gram
PH Range
2-10
Particle Size
3, 3.5, 5, 10 µm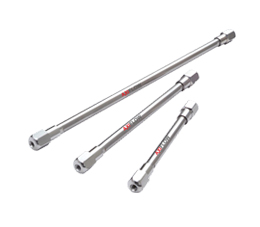 Applications :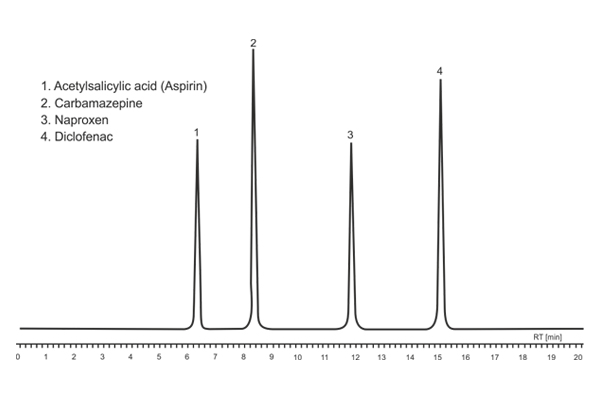 Analysis of Analgesics Compound by HPLC
Column : GRAV C18 | Size : 250mm x 4.6mm, 5µm Mobile Phase : A: H2O+0.1% HCOOH, B: CH3CN+0.15% HCOOH Gradient : 30%-80% in 15 mins, hold at 80% B for 15 mins. Flow : 1.0 ml/min | Detection : UV@254nm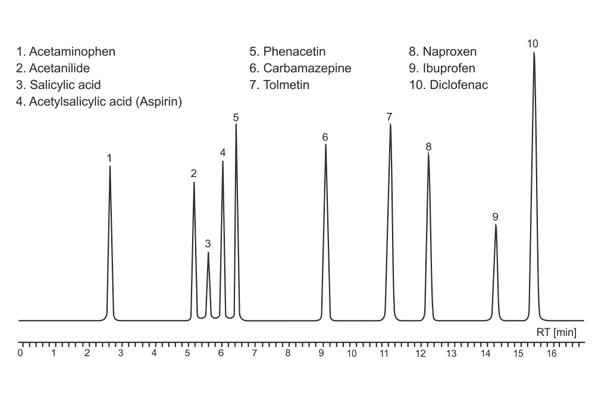 HPLC Separation of Analgesics
Column : GRAV C18 | Size : 150mm x 4.6mm, 5µm
Mobile Phase : A: H2O+0.1% HCOOH, B: CH3CN+0.1%
HCOOH A:B - 60:40 |
Flow : 1.0 ml/min | Detection : UV@254 nm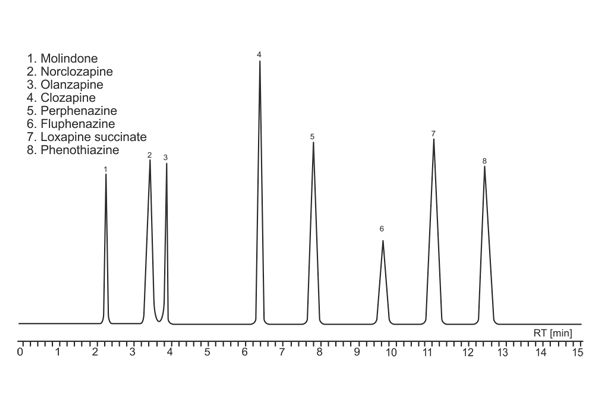 Antipsychotics
Column : GRAV C18 | Size : 150mm x 4.6mm, 5µm
Mobile Phase : CH3CN: 5mM NH4HCO3, pH10, 55:45
Flow : 1.0 ml/min | Detedtion : UV @ 220 nm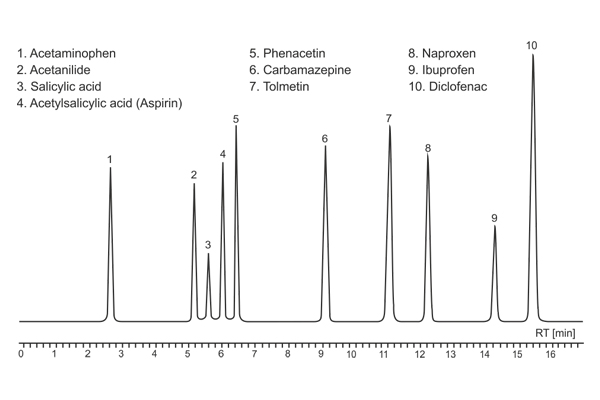 B-Blockers
Column : GRAV C18 | Size : 150mm x 4.6mm, 5µm
Mobile Phase: CH3OH:5 mM NH4HCO3, pH 10, 70:30
Flow : 1.0ml/min | Detection : UV @ 220 nm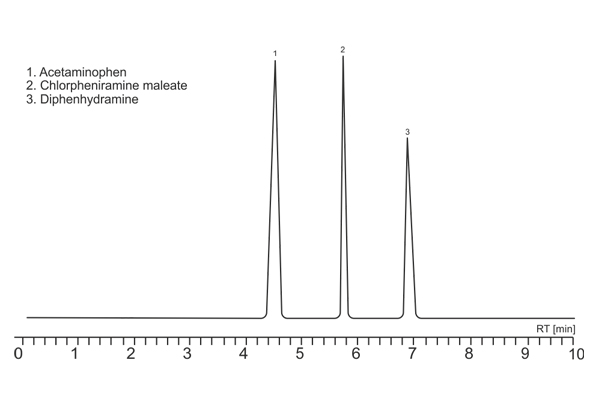 Cold Medicine
Column : GRAV C18 | Size : 250mm x 4.6mm, 10µm
Mobile Phase : A: H2O + 0.1% HCOOH, B: CH3CN + 0.1% HCOOH Gradient : 15% - 70% B in 10 mins | Flow : 1.0 ml/min Detection : UV @ 254 nm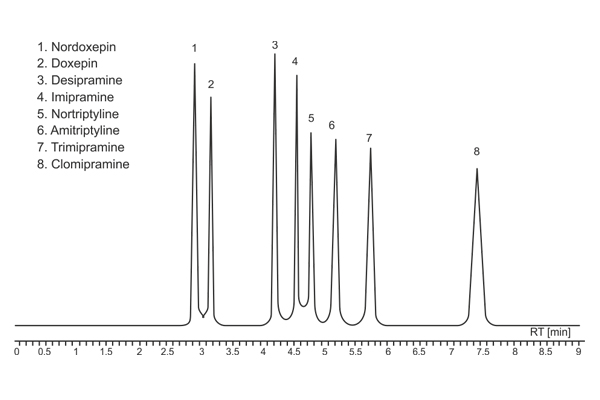 Cyclic Antidepressants
Column : GRAV C18 | Size : 150mm x 4.6mm, 5µm Mobile Phase : A: H2O + 0.1% HCOOH, B: CH3CN + 0.1% HCOOH Gradient : 30% - 40% B in 15 mins | Flow : 1.0 ml/min Detection : UV @ 254 nm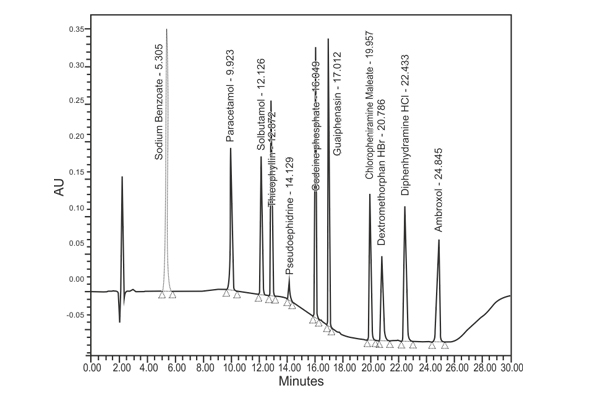 Water Soluble Vitamins
Column : GRAV C18; 250mm x 4.6mm, 5µm
Analysis of Cough and Analgesic Related compounds
Column : GRAV C18; 150mm x 4.6mm, 3µm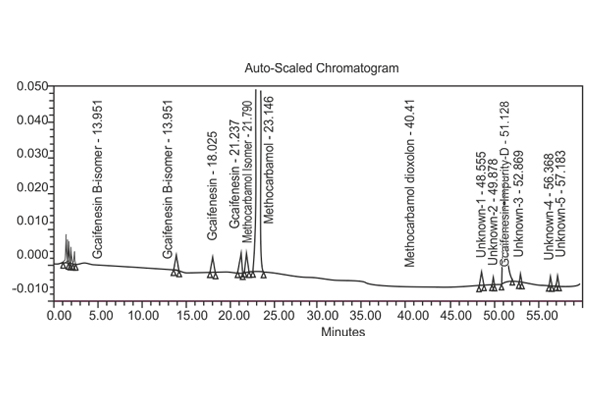 Methocarbomol injection-RS Method
Column Name : GRAV C18 Column
Compound Name : Methocarbamol | Guaifensin isomer Methocarbamol dioxolon | Guaiacol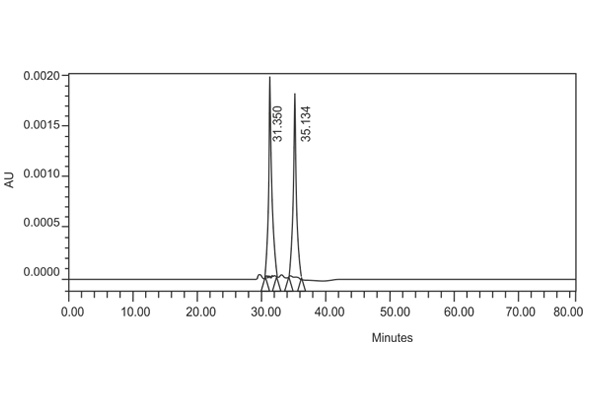 Cefpodoxime Proxetil System Suitability Method
Column Name : GRAV C18 Column
Compound Name : Cefpodoxime Proxetil S-epimer Cefpodoxime Proxetil R-epimer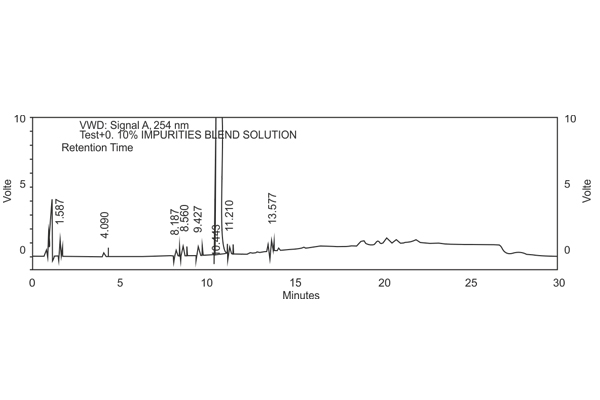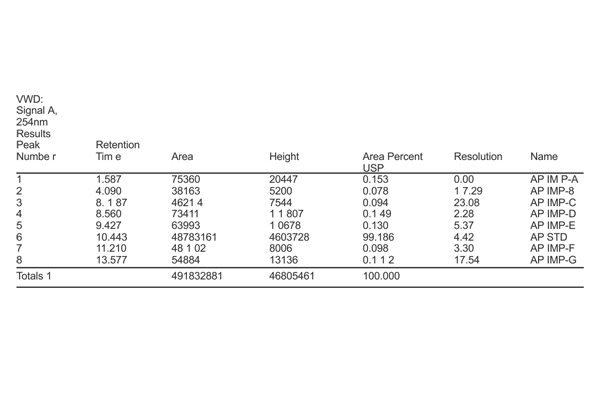 Ordering Information
Part Number
Phase
Particle
Size (µm)
Length
(mm)
ID (mm)
GRV.C18.46.300.0524
GRAV C18
5
300
4.6
GRV.C18.40.300.0524
GRAV C18
5
300
4
GRV.C18.46.250.0524
GRAV C18
5
250
4.6
GRV.C18.40.250.0524
GRAV C18
5
250
4
GRV.C18.30.250.0524
GRAV C18
5
250
3
GRV.C18.20.250.0524
GRAV C18
5
250
2
GRV.C18.10.250.0524
GRAV C18
5
250
1
GRV.C18.46.200.0524
GRAV C18
5
200
4.6
GRV.C18.40.200.0524
GRAV C18
5
200
4
GRV.C18.30.200.0524
GRAV C18
5
200
3
GRV.C18.20.200.0524
GRAV C18
5
200
2
GRV.C18.10.200.0524
GRAV C18
5
200
1
GRV.C18.46.150.0524
GRAV C18
5
150
4.6
GRV.C18.40.150.0524
GRAV C18
5
150
4
GRV.C18.30.150.0524
GRAV C18
5
150
3
GRV.C18.20.150.0524
GRAV C18
5
150
2
GRV.C18.10.150.0524
GRAV C18
5
150
1
GRV.C18.46.125.0524
GRAV C18
5
125
4.6
GRV.C18.40.125.0524
GRAV C18
5
125
4
GRV.C18.30.125.0524
GRAV C18
5
125
3
GRV.C18.20.125.0524
GRAV C18
5
125
2
GRV.C18.10.125.0524
GRAV C18
5
125
1
GRV.C18.46.100.0524
GRAV C18
5
100
4.6
GRV.C18.40.100.0524
GRAV C18
5
100
4
GRV.C18.30.100.0524
GRAV C18
5
100
3
GRV.C18.20.100.0524
GRAV C18
5
100
2
GRV.C18.10.100.0524
GRAV C18
5
100
1
GRV.C18.46.75.0524
GRAV C18
5
75
4.6
GRV.C18.40.75.0524
GRAV C18
5
75
4
GRV.C18.20.50.0524
GRAV C18
5
50
2
GRV.C18.10.50.0524
GRAV C18
5
50
1
GRV.C18.46.33.0524
GRAV C18
5
33
4.6
GRV.C18.40.33.0524
GRAV C18
5
33
4
GRV.C18.30.33.0524
GRAV C18
5
33
3
GRV.C18.20.33.0524
GRAV C18
5
33
2
GRV.C18.10.33.0524
GRAV C18
5
33
1
GRV.C18.46.30.0524
GRAV C18
5
30
4.6
GRV.C18.40.30.0524
GRAV C18
5
30
4
GRV.C18.30.30.0524
GRAV C18
5
30
3
GRV.C18.20.30.0524
GRAV C18
5
30
2
GRV.C18.10.30.0524
GRAV C18
5
30
1
GRV.C18.20.20.0524
GRAV C18
5
20
2
GRV.C18.46.300.0324
GRAV C18
3
300
4.6
GRV.C18.40.300.0324
GRAV C18
3
300
4
GRV.C18.46.250.0324
GRAV C18
3
250
4.6
GRV.C18.20.250.0324
GRAV C18
3
250
2
GRV.C18.10.250.0324
GRAV C18
3
250
1
GRV.C18.46.200.0324
GRAV C18
3
200
4.6
GRV.C18.40.200.0324
GRAV C18
3
200
4
GRV.C18.30.200.0324
GRAV C18
3
200
3
GRV.C18.20.200.0324
GRAV C18
3
200
2
GRV.C18.10.200.0324
GRAV C18
3
200
1
GRV.C18.46.150.0324
GRAV C18
3
150
4.6
GRV.C18.40.150.0324
GRAV C18
3
150
4
GRV.C18.30.150.0324
GRAV C18
3
150
3
GRV.C18.20.150.0324
GRAV C18
3
150
2
GRV.C18.10.150.0324
GRAV C18
3
150
1
GRV.C18.46.125.0324
GRAV C18
3
125
4.6
GRV.C18.40.125.0324
GRAV C18
3
125
4
GRV.C18.40.100.0324
GRAV C18
3
100
4
GRV.C18.30.100.0324
GRAV C18
3
100
3
GRV.C18.20.100.0324
GRAV C18
3
100
2
GRV.C18.10.100.0324
GRAV C18
3
100
1
GRV.C18.46.75.0324
GRAV C18
3
75
4.6
GRV.C18.40.75.0324
GRAV C18
3
75
4
GRV.C18.30.75.0324
GRAV C18
3
75
3
Ordering Information
Part Number
Phase
Particle
Size (µm)
Length
(mm)
ID (mm)
RV.C18.20.75.0324
GRAV C18
3
75
2
GRV.C18.10.75.0324
GRAV C18
3
75
1
GRV.C18.46.50.0324
GRAV C18
3
50
4.6
GRV.C18.40.50.0324
GRAV C18
3
50
4
GRV.C18.30.50.0324
GRAV C18
3
50
3
GRV.C18.20.50.0324
GRAV C18
3
50
2
GRV.C18.10.50.0324
GRAV C18
3
50
1
GRV.C18.46.33.0324
GRAV C18
3
33
4.6
GRV.C18.40.33.0324
GRAV C18
3
33
4
GRV.C18.30.33.0324
GRAV C18
3
33
3
GRV.C18.10.33.0324
GRAV C18
3
33
1
GRV.C18.46.30.0324
GRAV C18
3
30
4.6
GRV.C18.40.30.0324
GRAV C18
3
30
4
GRV.C18.30.30.0324
GRAV C18
3
30
3
GRV.C18.20.30.0324
GRAV C18
3
30
2
GRV.C18.10.30.0324
GRAV C18
3
30
1
GRV.C18.20.20.0324
GRAV C18
3
20
2
GRV.C18.46.300.1024
GRAV C18
10
300
4.6
GRV.C18.40.300.1024
GRAV C18
10
300
4
GRV.C18.46.250.1024
GRAV C18
10
250
4.6
GRV.C18.40.250.1024
GRAV C18
10
250
4
GRV.C18.30.250.1024
GRAV C18
10
250
3
GRV.C18.20.250.1024
GRAV C18
10
250
2
GRV.C18.10.250.1024
GRAV C18
10
250
1
GRV.C18.46.200.1024
GRAV C18
10
200
4.6
GRV.C18.40.200.1024
GRAV C18
10
200
4
GRV.C18.30.200.1024
GRAV C18
10
200
3
GRV.C18.20.200.1024
GRAV C18
10
200
2
GRV.C18.10.200.1024
GRAV C18
10
200
1
ABS.C18.46.150.1024
GRAV C18
10
150
4.6
GRV.C18.40.150.1024
GRAV C18
10
150
4
GRV.C18.30.150.1024
GRAV C18
10
150
3
GRV.C18.20.150.1024
GRAV C18
10
150
2
GRV.C18.10.150.1024
GRAV C18
10
150
1
GRV.C18.46.125.1024
GRAV C18
10
125
4.6
GRV.C18.40.125.1024
GRAV C18
10
125
4
GRV.C18.30.125.1024
GRAV C18
10
125
3
GRV.C18.20.125.1024
GRAV C18
10
125
2
GRV.C18.10.125.1024
GRAV C18
10
125
1
GRV.C18.46.100.1024
GRAV C18
10
100
4.6
GRV.C18.40.100.1024
GRAV C18
10
100
4
GRV.C18.30.100.1024
GRAV C18
10
100
3
GRV.C18.20.100.1024
GRAV C18
10
100
2
GRV.C18.10.100.1024
GRAV C18
10
100
1
GRV.C18.46.75.1024
GRAV C18
10
75
4.6
GRV.C18.40.75.1024
GRAV C18
10
75
4
GRV.C18.30.75.1024
GRAV C18
10
75
3
GRV.C18.20.75.1024
GRAV C18
10
75
2
GRV.C18.10.75.1024
GRAV C18
10
75
1
GRV.C18.46.50.1024
GRAV C18
10
50
4.6
GRV.C18.40.50.1024
GRAV C18
10
50
4
GRV.C18.30.50.1024
GRAV C18
10
50
3
GRV.C18.20.50.1024
GRAV C18
10
50
2
GRV.C18.10.50.1024
GRAV C18
10
50
1
GRV.C18.46.33.1024
GRAV C18
10
33
4.6
GRV.C18.40.33.1024
GRAV C18
10
33
4
GRV.C18.30.33.1024
GRAV C18
10
33
3
GRV.C18.20.33.1024
GRAV C18
10
33
2
GRV.C18.10.33.1024
GRAV C18
10
33
1
GRV.C18.46.30.1024
GRAV C18
10
30
4.6
GRV.C18.40.30.1024
GRAV C18
10
30
4
GRV.C18.30.30.1024
GRAV C18
10
30
3
GRV.C18.20.30.1024
GRAV C18
10
30
2
GRV.C18.10.30.1024
GRAV C18
10
30
1
GRV.C18.20.20.1024
GRAV C18
10
20
2